Frida Kahlo and San Francisco (Paperback)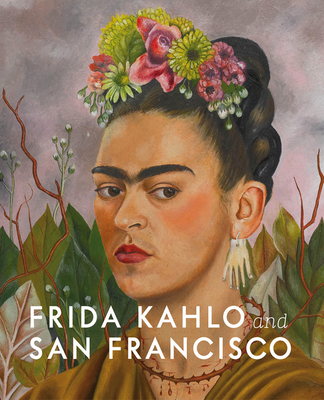 This item is not available.
Description
---
This book marks the triumphant return of Frida Kahlo to San Francisco, the city where her artistic life began to unfold. Kahlo's sojourns to the United States were brief, but formative. It was in the California city—the first she visited in the US—that she ventured into a new world beyond the scope of Coyoacán, Mexico City, and Cuernavaca.
Kahlo first visited San Francisco in 1930 with her husband Diego Rivera and stayed for a year while he completed murals for the City Club of San Francisco and the San Francisco Art Institute. It was love at first sight. Kahlo appreciated the beauty of the city, relished its ethnic diversity, and was mesmerized by neighborhoods like Chinatown. She met fascinating people, many of whom became lifelong friends. It was also in San Francisco that Kahlo began to fashion her indigenous (and now iconic) Mexican identity, deliberately distinguishing herself from the local women, whom she called "scarecrows" and "dull." Kahlo refined her sartorial flair, enhanced her political and social worldview, and began to paint seriously. Today she is recognized as a cultural icon, and one of the most critically acclaimed artists of the twentieth century.
Presented alongside a major exhibition at the de Young museum in San Francisco, this catalogue includes essays exploring Kahlo's role as an artist and her time in San Francisco, as well as a selection of artworks by the artist and photographs of her.
Frida Kahlo and San Francisco
provides a unique opportunity to examine the ways in which politics, gender, trauma, and national identity influenced Kahlo's diverse modes of creativity.
Exhibition Schedule
San Francisco, CA
March 21–July 26, 2020  
About the Author
---
Gannit Ankori is professor of art history and theory in the Departments of Fine Arts and Women, Gender, and Sexuality Studies, and the Schusterman Center, at Brandeis University. She is the author of Imaging Her Selves: Frida Kahlo's Poetics of Identity and Fragmentation; Frida Kahlo: Art, Life, Diary; Palestinian Art; and Frida Kahlo. She is the interim director and chief curator of the Rose Art Museum, Brandeis University.

Circe Henestrosa is an independent fashion curator and head of the School of Fashion at LASALLE College of the Arts in Singapore.

Hillary C. Olcott is associate curator of the arts of Africa, Oceania, and the Americas at the Fine Arts Museums of San Francisco.
Praise For…
---
"Few women artists have used their own face and wardrobe in their work as extensively as Frida Kahlo. . . . Frida Kahlo and San Francisco, by Circe Henestrosa and Gannit Ankori—emphasize[s] that Frida treated clothing as an artistic palette and her way of dressing as continuous with the self-portraits she painted."
— Art in America

"Frida Kahlo and San Francisco, a slender but lavishly produced and illustrated volume. . .The catalogue's essays, one by fashion curator and scholar Circe Henestrosa and the other by art historian Gannit Ankori, succinctly address two key themes. Henestrosa outlines the artist's cultural, gender, and political self-construction through her fashion choices; Ankori demonstrates the importance of Frida's two visits to San Francisco to her self-transformation from 'Madame Rivera,' the wife of an artist, to Frida Kahlo, an artist in her own right. . . Frida Kahlo and San Francisco is diminutive but eye-catching."
— Choice