Schiele (Basic Art) (Hardcover)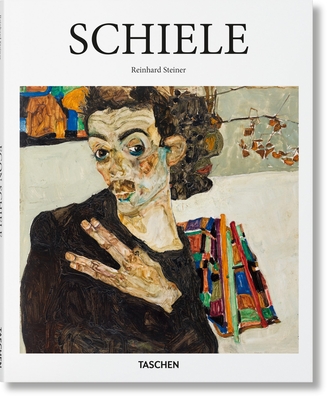 Description
---
With his graphic style, figural distortion, and defiance of conventional standards of beauty, Egon Schiele (1890-1918) was a pioneer of Austrian Expressionism and one of the most startling portrait painters of the 20th century.
Mentored by Gustav Klimt, Schiele dabbled in a glittering Art Nouveau style before developing his own much more gritty and confrontational aesthetic of sharp lines, lurid shades, and mannered, elongated figures. His prolific portraits and self-portraits stunned the Viennese establishment with an unprecedented psychological and sexual intensity, favoring erotic, exposing, or unsettling poses in which he or his sitters cower on the floor, languish with legs akimbo, glower at the viewer, and thrust their genitalia into the foreground. His models are at times skeletal and sickly, at other times strong and sensual.
Many contemporaries found Schiele's work to be not only ugly but morally objectionable; in 1912, the artist was briefly imprisoned for obscenity. Today, his oeuvre is celebrated for its revolutionary approach to the human figure and for its direct and particularly fervent, almost furious brand of draftsmanship. This book presents key Schiele works to introduce his short but urgent career and his profound contribution to the development of modern art, which reaches right through to such contemporary talents as Tracey Emin and Jenny Saville.
About the series
Born back in 1985, the Basic Art Series has evolved into the best-selling art book collection ever published. Each book in TASCHEN's Basic Art series features:
a detailed chronological summary of the life and oeuvre of the artist, covering his or her cultural and historical importance
a concise biography
approximately 100 illustrations with explanatory captions