Minimalist Living: The Road To Achieving A Minimalist Mindset, Implementing Habits Of Highly Effective Minimalists, And Decluttering Your (Hardcover)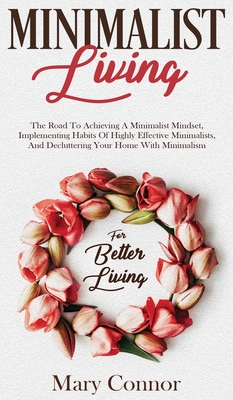 $26.99

Usually arrives at our store within 4-7 days
Description
---
Has life been feeling cluttered lately? Does everything seem overwhelming and too much to handle?
Sometimes, looking at the things around you and the way you live your life could be the key to finding the root cause of your problems.
Living minimally is becoming quickly popular amongst those that wish to live a simpler life. Maybe you are feeling stuck, wishing you had more stuff, more cars, more money. By living minimally, you are able to adjust your mindset and focus more on what is important.
Living minimally is not just about looking at what is around you but looking at what is inside of you.
For some, minimalism might be a radical idea. Others might find that this is the solution they've been eagerly waiting for. No matter how you might initially feel about minimalism, reading this book will provide answers on how to better live your life.
In the average American home, there might be an average of 300,000 items In a regular day, there is no way that the average American would use even a quarter of these things. So, what is the point in letting those items control your life?
By reading Minimalist Living you will be able to:
How To Start Living A More Minimal Lifestyle
Essential Rules For Living With Less
Learn To Focus On The Important Things
Simple Habits of Minimalist Living You Can Adopt Today
Important Ways Minimalism Can Help Create Stronger Relationships
50 Tips To Help You Say Goodbye To Your Things
Save Money, And More Importantly Time
And much more...
You might have heard of the concept of minimalism before, but there are many misconceptions about what is actually involved. The basic idea behind minimalism is the stripping down of the essential aspects of one's life in order to put more emphasis on what is important, and less weight on the materialist things in life.
Minimalism does not have to be a strict practice, and you can start simply by applying methods that will work and passing over the parts that do not. It is time for you to take back control over your life and no longer let the stuff around you define what you are going to feel.
Living minimally will introduce you to the life you have always dreamed of, but in a way, you have never seen before