Minimalist Living: 2 In 1: The Joy Of Simplifying Your Life With Minimalism And Inner Simplicity: Includes Minimalist Living And Minimali (Hardcover)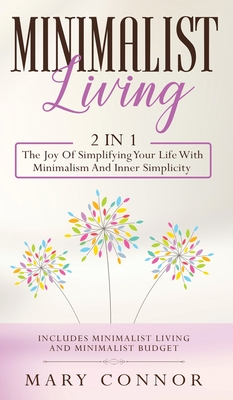 $29.99

Usually arrives at our store within 4-7 days
Description
---
Has life been feeling cluttered lately? Does everything seem overwhelming and too much to handle? Are you tired of having a lot of debt pile up and that it never seems to end?
For some, minimalism might be a radical idea. Others might find that this is the solution they've been eagerly waiting for. No matter how you might initially feel about minimalism, reading this book will provide answers on how to better live your life.
The power of minimalism spans all areas of life
Each person is going to find that creating a minimalism budget is going to be a unique experience for them. This guidebook will discuss all the things that you need to know to get started with this kind of budgeting method.
By reading Minimalist Living you will be able to
How To Start Living A More Minimal Lifestyle
Essential Rules For Living With Less
Important Ways Minimalism Can Help Create Stronger Relationships
50 Tips To Help You Say Goodbye To Your Things
How Decisions Are Made In Our Minds And How To Be Aware Of This For Better Budgeting Decisions
The Top Budgeting Methods That Bring Real Results
Painless Tips To Help You Reduce Your Spending Even More So You Can Put More Money Into Your Savings Account
And Much More...
You might have heard of the concept of minimalism before, but there are many misconceptions about what is actually involved. The basic idea behind minimalism is the stripping down of the essential aspects of one's life in order to put more emphasis on what is important, and less weight on the materialist things in life.
In addition, minimalism budgeting is a great way to really take a look at your finances and ensure that you actually spend your money on things that are important to you, instead of wasting it on things that bring you no joy.
Living minimally will introduce you to the life you have always dreamed of, but in a way you have never seen before.