Covid-19, la catástrofe: Qué hicimos mal y cómo impedir que vuelva a suceder (Paperback)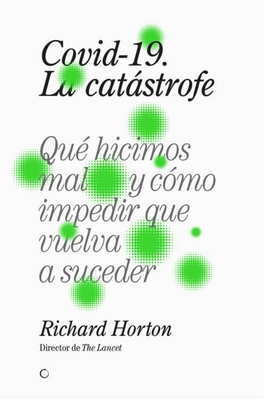 Description
---
Covid-19, la catástrofe es el análisis de una crisis de salud global que ha consumido al mundo. Richard Horton, director de la revista médica The Lancet, analiza aquí la respuesta dada a esta emergencia sanitaria por los diferentes gobiernos en su intento por contener el nuevo coronavirus. Expone los errores de muchos líderes políticos y sus asesores científicos, que permitieron que ocurrieran cientos de miles de muertes innecesarias y la peor crisis económica mundial en tres siglos.

Se supone que vivimos en una época en que la especie humana se ha convertido en la influencia dominante sobre el medio ambiente, pero la Covid-19 ha revelado la fragilidad de nuestras sociedades y la rapidez con que nuestros sistemas pueden venirse abajo. Tenemos que aprender de esta pandemia, y aprender rápido, porque la próxima puede llegar antes de lo que pensamos.

A partir de sus conocimientos científicos y médicos, Horton explica las medidas que deberían ponerse en marcha sin demora, a escala nacional e internacional, para impedir que vuelva a ocurrir otra catástrofe de este tipo.
About the Author
---
Richard Horton es miembro del Real Colegio de Médicos y de la Academia de Ciencias Médicas de Gran Bretaña, además de catedrático universitario. Tras ejercer la medicina durante algunos años, entró a formar parte de la prestigiosa revista médica The Lancet, de la que pasó a ser director en 1995.