Dipartimento Della Protezione Civile / Rete Dei Laboratori Universitari Di Ingegneria Sismica. Tecnologie Per L'Isolamento Ed Il Controllo Di Struttur (Hardcover)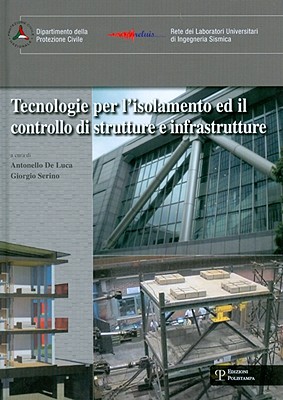 This item is not available.
Description
---
English summary: A collection of articles in Italian and/or English drawn from the colloquium held in Naples in December 2008 presenting the principal results of the triennial "Linea 7" project on technological innovations for controlling seismic vibrations. Italian description: Il volume raccoglie gli Atti di Convegno tenutosi a Napoli il 4 e il 5 dicembre 2008. I contributi sono stati suddivisi secondo le sessioni del Convegno: Isolamento e dissipazione di energia: metodologie di progetto e sperimentazione su strutture, Modellazione e sperimentazione dei dispositivi, Sistemi TMD/TLD e sistemi combinati isolamento + TMD, Sistemi semi-attivi: modellazione e sperimentazione . Obiettivo principale del Seminario e stata la presentazione dei principali risultati ottenuti nel corso del Progetto triennale Linea 7, finanziato dal Dipartimento della Protezione Civile attraverso il Consorzio ReLUIS, riguardante le tecnologie innovative per il controllo delle vibrazioni di origine sismica (isolamento sismico, dissipazione di energia, masse accordate, controllo semiattivo), che ha visto coinvolte le principali sedi universitarie italiane attive nel settore. Sperimentazioni in laboratorio e prestazioni sul campo in occasione di terremoti hanno ormai dimostrato la capacita di tali tecnologie di fornire livelli di sicurezza superiori a quelli ottenibili con una progettazione antisismica tradizionale. Il seminario prevedeva la presentazione di lavori scientifici sia da parte di ricercatori afferenti alle singole Unita di Ricerca, sia da parte di studiosi che non hanno partecipato direttamente alle attivita deflla Linea 7. Testi in inglese o in italiano di / English or Italian texts by: M. Acanfora, R. Antonucci, G. Auletta, F. Balducci, M. Botta, G. Brandonisio, M.G. Castellano, N. Caterino, A. Di Cesare, F. Comodini, G. Cuomo, A. Dall'Asta, M. De Iuliis, A. De Luca, R. De Lucia, A. De Stefano, L. Dezzi, A. Di Cesare, V. Di Nardo, L. Di Sarno, M. Diaferio, R. Ditommaso, M. Dolce, F. Fadi, G. Faella, D. Foti, C. Gambardella, G. Gasparini, V. Gattulli, G. Giannattasio, J.M Kelly, G. Leoni, M. Lepidi, J. Londono, G. Manfredi, G. Manzoni, A. Marioni, R. Marnetto, M.R. Marsico, E. Matta, F. Mazza, E. Mele, F.A. Mercurio, M. Mezzi, C. Moroni, D. Nigro, R. Nobile, A. Occhiuzzi, B. Palazzo, L. Petti, C. Poggi, F.C. Ponzo, F. Potenza, V. Quaglini, L. Ragni, G. Serino, S. Silvestri, S. Sorace, M. Spizzuoco, G. Terenzi, T. Trombetti, E. Tubaldi, A. Vulcano.