WordPress for Kids: A Creative Book for Kids to Master WordPress, Its Themes, and Plugins with Complete Fun (Paperback)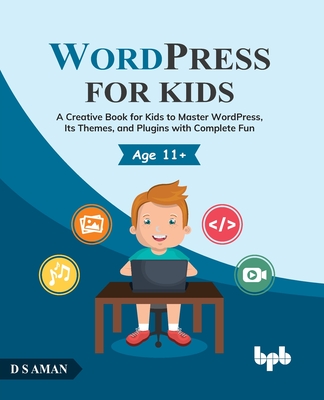 This item is not available.
Description
---
When kids are interested in technology and websites, WordPress for Kids will pique their interest in learning more. This book will help kids get first-hand experience in building a world-class site using WordPress.
It's a lot easier if you have a lot of screenshots and examples to follow along with. Each section is written so that children are never overwhelmed by technical details. Instead, they are divided into stories, scenarios, and terms they can relate to.
The book begins by helping you set up an account on WordPress.com and then walking you through the dashboard tab-by-tab. The book covers how to log in to WordPress, create and edit posts and pages, customize colors, fonts, the header and footer, the layout, and other design elements, as well as content and images. It helps explore plugins, widgets, and some eye-catching website themes. This book will help you get your website ranked on search engines like Google. Your very first website will be online by the end of this book. Without writing a single line of code, your website will be ready to be seen by millions of people.
TABLE OF CONTENTS
1. WordPress and Subway. Understanding WordPress with the Help of Sandwiches
2. Getting Started - Create Your Account and Start Exploring
3. Setting Up Your Site
4. Few Website Terminologies
5. Posts, Pages, and Your School Timetable
6. Creating your First Post
7. Comments, Categories, and Tags
8. Creating a Page
9. Themes - Your Personal Designer
10. Customizing Your Theme
11. Menus - The Map of Your Website
12. Being Widgety with WordPress
13. Going for a Paid Plan - Is It Required?
14. Introducing the Plugins
15. Rank Your Website. SEO with Plugin
16. Adding Animation and Interaction to Your Pages
17. Few More Popular Plugins
18. Launching Your Website and What to Do Next?