14 Steps to Financial Freedom: Simple Strategies to Grow, Protect, and Sow Your Money at Any Age (Paperback)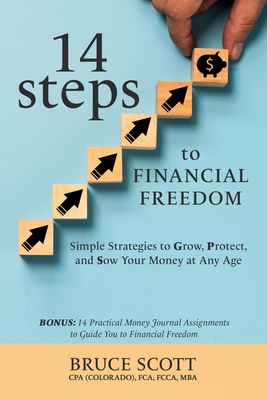 $17.99

Usually arrives at our store within 4-7 days
Description
---
Longing for financial freedom? Learn how to build (grow), protect, and sow (give) your money.
You have the right to be financially free and live securely. But the majority of us aren't taught to manage money, so it can seem like an impossible dream. Many of us leave high school, college, and even our parents' homes without the knowledge needed to help secure our financial futures in an increasingly complex world.
Thankfully, it's not too late for you to learn how to manage your money and obtain wealth. Yet instead of focusing only on the size of your paycheck, dig into your behavior and how much you are able to save and invest from that income.
Bruce Scott, CPA (Colorado), MBA (Finance), FCA, FCCA, is an international personal finance specialist, who not only lifted himself out of poverty but now teaches his clients how to attain financial freedom. In this step-by-step road map, he walks you through 14 straightforward, detailed steps in easy-to-understand chapters that can be implemented from day one.
Master the lifetime habits needed to be financially secure and unlock the golden rules of financial freedom.
In 14 Steps to Financial Freedom, get tools to help you
Discover your financial personality.
Diagnose your financial health to guide how to build your income and remedy deficiencies.
Increase your savings for a more secure retirement, using the TTCI method.
Build a rainy-day fund to protect you and yours against the storms of life.
Reduce your debt mountains and green-light your financial independence.
Understand the rules of investing and how to plan for your golden years.
Protect your new wealth using insurance products and wise estate planning.
Personal financial management is about your behavior, as much as it is about dollars and cents. Remain disciplined, read and follow the 14 Steps to Financial Freedom, and you could experience the power of total financial freedom