Energy Simulation of Chemically Modified Wood Enveloped Building (Paperback)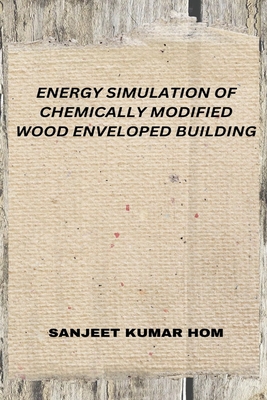 Description
---
Energy simulation is a computational tool used to predict the energy performance of a building or system. It allows architects, engineers, and building designers to analyze the thermal, lighting, and mechanical systems of a building, and identify ways to improve energy efficiency and reduce energy consumption. Building energy simulation software uses mathematical models to simulate the behavior of energy systems, and can take into account factors such as weather, occupancy, and equipment schedules. The results of the simulation can be used to optimize the design of a building, and to make informed decisions about materials, systems, and equipment. Additionally, energy simulation can also be used to assess the feasibility of renewable energy systems such as solar, wind and geothermal, and to estimate their potential energy production.
A chemically modified wood enveloped building is a building that utilizes wood as the main building material for the envelope (exterior walls, roof, and floor). The wood is chemically modified to improve its performance and durability. This can include treatments such as preservatives to protect against decay and insects, or flame retardants to increase fire resistance. The chemical modification process can also enhance the wood's dimensional stability and resistance to weathering.
The use of chemically modified wood in building construction offers many benefits such as durability, sustainability, and eco-friendliness. It is a renewable resource and can be sourced from responsibly managed forests. It also has a lower environmental impact compared to traditional building materials like concrete and steel. The chemically modified wood also makes the building more durable and resistant to fire, decay and pests, which reduces the need for maintenance and prolongs the life of the building.
Chemically modified wood enveloped buildings are an innovative solution for eco-friendly and sustainable construction, it has the potential to reduce the environmental footprint of buildings, while also providing a cost-effective and durable alternative to traditional building materials.