Social Media Marketing Workbook 2022 Discover New Content, Strategies And Secrets To Make at Least $10.000 Per month With Youtube, Twitter, Facebook A (Paperback)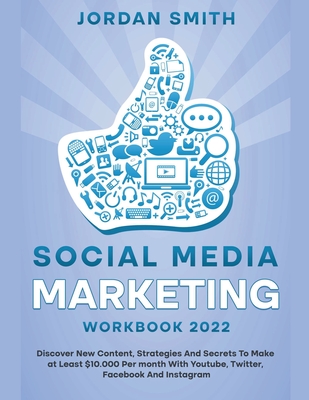 $19.99

Usually arrives at our store within 4-7 days
Description
---
Social media has become the fastest moving industry in the world. Businesses can grow faster, find new customers quicker, grow their wealth and knowledge by reaching out to people from all over the world. This is something that was not possible several decades ago when the only form of marketing accessible to most businesses was print, radio, and television advertising. Your reach was restricted based on your budget, and you had no control over how many times your target audience would listen or see the content you are putting out there. Well, not anymore.
One of social media's most powerful features is the way it can connect people from all over the world in a matter of seconds. It doesn't matter where you are located, as long as you have a working internet connection and some device to view content on, you're connected. For businesses, this has been an incredible advantage. Imagine the business potential when you can now reach millions of customers worldwide?
Social media has changed the world of marketing forever. For example, your business can go live in a matter of seconds to people across the world. Your product launch, when it is done as live broadcast, it is instantly shown to customers from every country imaginable. You get to share the amazing things that happen in your company with your loyal customers and build relationships with them in a way that you never could before social media came along.
This platform has forced businesses to become more creative, innovative, and more attentive to what the customers want in order to keep the content fresh, relevant, and appealing to the target audience. Social media has also become a hotbed of research, and this is where your business begins to transform your marketing strategies. The next chapters will be your guide to marketing your business on this social, digital space like a winner.