Creature Loving Volume 2: A Monster Erotica Collection (Paperback)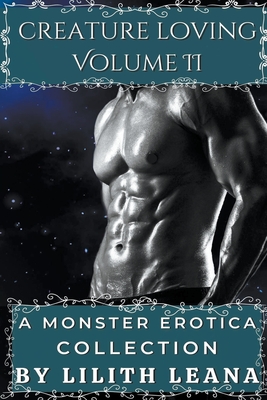 $9.99

Usually arrives at our store within 4-7 days
Description
---
Bathing with the Akkorokamui
Ava's trip to Japan ends in the beautiful village, Kurokawa Onsen, famous for its hot springs. She gets the most pleasurable and relaxing surprise when she enters the lair of the Akkorokamui.
Akkorokamui lives to heal people with the use of its tentacles. Ava has tension everywhere in her body, and it will do its utmost best to let her unwind in the most satisfying way possible.
Courted by El Sombrer n
Ariana went to Guatemala for her vacation, thinking she will return exactly the same. She hadn't counted on the mysterious El Sombrer n seducing her and making her his bride.
El Sombrer n has lived a lonely life, always searching for a bride, but never finding one. When the beautiful Ariana gifts him with her smile, he knows he will not rest until he has made her his bride.
Saved by the Yeti
Evelyn thinks her life is over when she gets trapped in the snow on her company ski trip. She gets saved by a massive white creature, and the moment she wakes up, the only thing she can think about is thanking her rescuer any way she can.
Jens the Yeti saved the cute little human female, trying to do the right thing. When she wakes up and rubs herself all over him, he can't resist his urge to breed her.
Mated to a Vampire
Luna Cassidy finds a Vampire in her territory who smells absolutely delectable. Her Wolf thinks he is her mate, but she doesn't want to give in to her urges before she knows why he crossed into her territory.
Elijah has to get to his Vampire Queen fast, but gets trapped in Wolf territory. When the sexy Luna tells him he is her mate, he scoffs and runs away, but something inside of him makes him turn back.
Seducing the Orc
Mia loves playing Dungeons and Dragons. Playing with a new group, she meets a shy, nerdy Orc with whom she has an instant connection. She thinks he is her Mate, now she only has to seduce him to convince him they are perfect for each other.
Gunnar has always been happy in his little bubble, playing games and not having to worry about anything else. But that changes when the gorgeous little human in his Dungeons and Dragons group states she is his Mate. She is so tiny he is afraid he will hurt her, but she is sure that they will fit together.
On a Date with the Naga
After Avery lets a Naga fuck her at her work she takes him out on a Date to get their stories straight before she loses her job.
Ezra has other plans for his date with Avery. He invites her to his appartement to double stuff her.
---------
Reader advisory: This story contains explicit sex scenes.
Creature Loving Volume 2 is a collection of five previously published standalone short erotic stories and one exciting new bonus story.
It is filled with human FMC's loving Monsters, Beasts and Creatures. Full-length, explicit sex scenes, standalone, no cheating or cliffhangers.
----------