14 Manu and 10 Incarnation of Lord Vishnu (Paperback)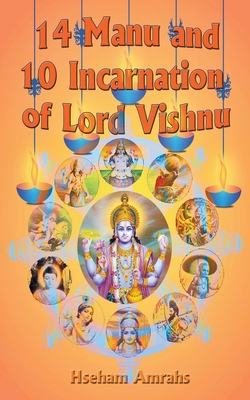 $11.99

Usually arrives at our store within 4-7 days
Description
---
Different numbers of Manu are found in different Hindu texts. Eight Manus are mentioned in the Mahabharata. Fourteen Manu's in Shvetavarah Kalp. According to Hindu texts, Swayambhuva 'Manu' has been called the first man of the world and his wife Shatrupa the first woman. The whole world is pervaded by the progeny of this couple. 'Manav' (man) is called 'Manushya' (human) because of being the descendant of Manu.
Swayambhuva Manu ruled the earth for years. The subjects were happy and prosperous in their kingdom. They wrote 'Manusmriti', which is not found in its original form today.
Lord Vishnu is the supreme worshiped deity of the Hindus. His glory has been described in detail in religious texts. There is a description of Lord Vishnu taking twenty-four incarnations for the welfare of the people. Among these, 10 incarnations are considered especially important and completely dedicated themselves to the betterment of the world. Lord Rama and Krishna are two such human incarnations of Lord Vishnu, who lived their lives like ordinary human beings and set exemplary examples for humans.
The stories of fourteen Manu and ten incarnations of Lord Vishnu are given in the present book, which is not only interesting but also inspiring and informative.