Freakish Answers to Questions on Animals (Paperback)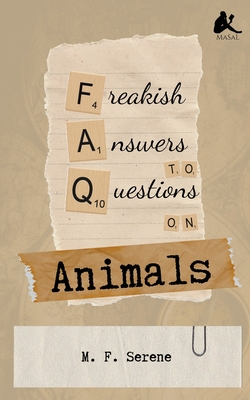 Description
---
Freakish Answers to Questions on Animals is a must-read for anyone with a fascination for the animal kingdom. This insightful and engaging book is full of fascinating and unusual animal-related questions that will satisfy the curiosity of animal lovers and inquisitive minds alike. From questions about animal behavior to queries about the strangest animal adaptations, this book provides answers to some of the most peculiar and bizarre questions you can imagine.
Written by a knowledgeable and passionate animal expert, M. F. Serene, Freakish Answers to Questions on Animals is more than just a book of fun facts. It's a comprehensive and insightful exploration of the world of animals that will leave you with a deeper appreciation and understanding of the creatures that inhabit our planet.
Whether you're a student, a teacher, or simply someone who loves to learn new and interesting facts, this book is the perfect addition to your collection. It's packed with a wealth of fascinating information that is both educational and entertaining. You'll discover some of the most bizarre and unbelievable animal facts, including the weird and wonderful ways that animals have evolved to survive in their habitats.
So, if you're ready to delve into the weird and wonderful world of animals, pick up a copy of Freakish Answers to Questions on Animals and get ready to be amazed. With its engaging and accessible writing style, this book is the perfect companion for anyone looking to expand their knowledge of the natural world. Whether you're a seasoned animal enthusiast or just starting to explore the wonders of the animal kingdom, this book is sure to captivate and inspire you.