Corridors Parallel: Book 1 (Paperback)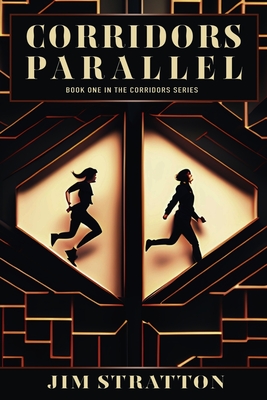 Description
---
Glya, 18, is a seasoned soldier in a war against invading monstrous rodents, her life increasingly threatened by other powerful and deceptive enemies. Kyrian, also 18, is third in line to become Regent in a peaceful world threatened by a darkened sky and an invading zealous monarchy. Despite many similarities, neither world knows of the other's existence. As both worlds teeter on intrigue and treachery, the two youths find themselves enmeshed in complications of love, war, and dangers beyond their wildest imagination.

Thus begins the six-book Corridors Series, which takes the two youths along pathways that eventually bring them together as they uncover the incredible truth about their separate, mutual, and seemingly multiple universes.
About the Author
---
Jim Stratton has been a reporter and columnist, hitch-hiker and bar owner, district leader and loft tenant, but has always had his eyes on the stars.

Among his estimated 8,000 news interviews over his years as a reporter in the 1970s were three Presidents of the United States, two Beatles, three heads of state, and eight newsmakers who have been assassinated (though he insists he had nothing to do with any of them).

He's written 350+ newspaper columns, hitchhiked an estimated 17,000 miles, spent 18 years as a reform Democratic District Leader in Manhattan, made several short art films, and opened four iconic bars (Grassroots and Puffy's in Manhattan, Bar Bayeux in Brooklyn, and The Maple Leaf Bar in New Orleans). He is also an accomplished palindromist.

Jim was one of the very early loft-tenants in both SoHo (1968) and Tribeca (1974). His first published book, Pioneering in the Urban Wilderness, was an account of the sweat-equity conversions of commercial buildings by artists in a dozen cities across the US. Inspired as well by the work of scientists and science fiction writers alike, he's written nearly a dozen scifi novels, the first of which, Solution, was published in 2022 after many years of procrastinating, rewriting, and being busy doing everything mentioned above.

Jim has four adult children, three grandchildren, and now lives with his wife of forty years (and two schnauzers) in an idyllic small town in Upstate New York.