Farkle Score Sheets: 120 Large Score sheets for up to 7 Players (Score Record Book for Farkle Dice Game) Score Pads for Farkle Dice Game (L (Paperback)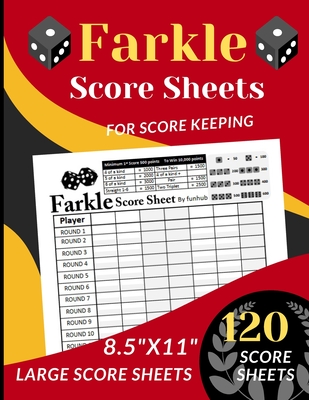 Description
---
Premium Farkle Score Sheets, Farkle score sheets, for Game night.
Who loves playing Farkle Dice Game?
All of us So we created these personal tally sheets that you can easily keep track of all your Farkle Dice Game with your friends and family Keep your score on this simple yet addictive score sheets. Fun for adults, teens and kids (even seniors and elderlies).
Features:
Farkle Guidlines
23 ROUNDs per sheet (up to 7 Players )
Large 8.5" x 11" pages
Quality white paper
Printed locally in the U.S.
Compete your rivals with our sheets today
Click Add to your Cart
Click on the "Author Name" link above to check out our other Score Sheets.
perfect gift (Birthday or Christmas) for real Farkle Dice Game lovers.
Party Supplies, Farkle score pads, Farkle score cards, Farkle score sheets, love Farkle love funhub
Gift Ideas:
Birthday gifts
Housewarming gifts
Christmas gifts
Stocking Stuffers
Gifts for Co-Workers
Gifts for Neighbors
Gifts for Teachers
Retirement Gifts for Farkle Enthusiasts
Gifts for Men, Women, Boys and Girls