Summary: The Power of Meaning Book Summary - Finding Fulfillment in a World Obsessed with Happiness - Crafting a life that matt (Paperback)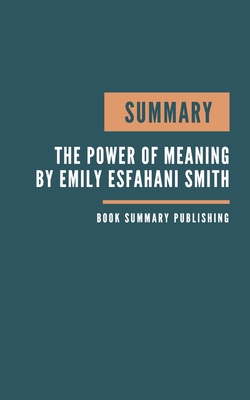 Description
---
The Power of Meaning Book Summary - Finding Fulfillment in a World Obsessed with Happiness - Crafting a life that matters.
Have you ever wondered how to live a peaceful life? Most of us think the goal of life is to be "happy," but this is a fleeting state destined to change. "When I change jobs, I'll be happy," "After I get my new car, everything will be great," "Once I'm married, I'll live happily ever after." These ideas keep pushing us forward, searching for things we don't have. Instead, we should find purpose and enjoy what we have accomplished. If you long to build a meaningful life and quit the constant chase of "happiness," then this summary is for you Why read this summary:
Save time
Understand the key concepts
Notice: This is a THE POWER OF MEANING Book Summary. Emily Esfahani Smith Book. NOT THE ORIGINAL BOOK.