Summary: The 7 Habits of Highly Effective People - Powerful Lessons in Personal Change by Stephen R. Covey - Key Lessons From C (Paperback)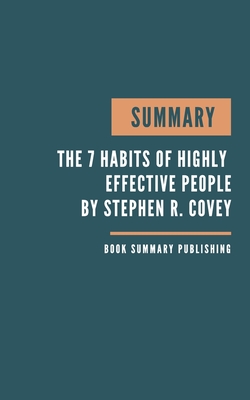 Description
---
The 7 Habits of Highly Effective People - Powerful Lessons in Personal Change by Stephen R. Covey - Key Lessons From Covey's Book.
Many people develop bad thinking and behavioral habits that are contrary to those that encourage their well-being. As a result, they turn in on themselves, act hastily, refuse responsibility and have no sense of priority. It then becomes increasingly difficult for them to listen, understand, and help others. This is a passive way of living, whether it be in one's personal life or in cultural, intellectual, or spiritual domains. Stephen R. Covey seeks to show us that natural laws govern the world; innate principles are known and accepted by humankind, including justice. We must act according to these fundamental principles to progress and acquire new life principles. Why read this summary:
Save time
Understand the key concepts
Notice: This is a THE SEVEN HABITS OF HIGHLY EFFECTIVE PEOPLE Book Summary. Stephen R. Covey's Book. NOT THE ORIGINAL BOOK.