Summary: You're So Money Book Summary - Key Lessons From Torabi's Book - Book Summary. (Paperback)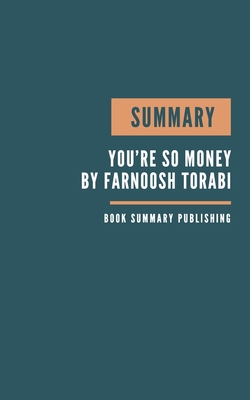 Description
---
You're So Money Book Summary - Live Rich, Even When You're Not - Key Lessons From Torabi's Book - Book Summary.
Saving money is a great goal, but you first have to know how to Otherwise, you won't save properly, and you'll feel like you don't have enough money, or like you're making too many sacrifices. Indeed, money is a double-edged sword. If you spend it and use it wisely, it'll allow you to go far, but if you spend it foolishly on impulse purchases, it will slow your progress in life. It's easy to believe you're using your money well. But realistically, if you don't have any experience or advice, it's very likely you're making impulse-driven decisions, thereby making spending mistakes. "You're So Money" will give you tips on how to optimize your spending. Are you ready to regain control over your wallet? Why read this summary:
Save time
Understand the key concepts
Notice: This is a YOU'RE SO MONEY Book Summary. Farnoosh Torabi's Book. NOT THE ORIGINAL BOOK.