Summary: Your Money or Your Life Book Summary - Key Lessons From Robin's Book - 9 Steps to Transforming Your Relationship with (Paperback)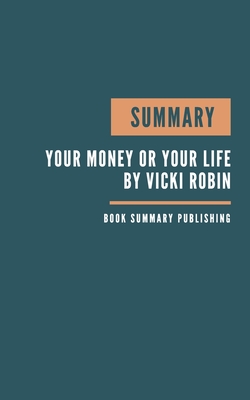 $5.99
Email or call for price
Description
---
Your Money or Your Life Book Summary - Key Lessons From Robin's Book - 9 Steps to Transforming Your Relationship with Money and Achieving Financial Independence - Achieve financial independence.
Vicki Robin was born in Oklahoma in 1945. She is one of the first people to have addressed the concept of financial independence with this indispensable book. Today, she is once again at the forefront with her FIRE movement. Considering its importance in daily life, money takes up most of people's time, thought, and energy. Yet few find the same amount of satisfaction in work. On the contrary, too many people only work to earn money, biting the bullet, year after year, living just for weekends and vacations. By doing this, they slowly but surely sacrifice their life for money without even realizing it. However, this situation is not a fatality. There are simple measures to put into place to rediscover your freedom and release yourself from these chains. Becoming financially independent is one of these means. It is also the first step to take in order to access a life in which you'll finally do what you want. Are you ready to discover how? Why read this summary:
Save time
Understand the key concepts
Notice: This is a YOUR MONEY OR YOUR LIFE Book Summary. Vicki Robin's Book. NOT THE ORIGINAL BOOK.