The 30-Minute Gluten-Free Cookbook: Cook Healthy and Delicious Gluten-Free Recipes in 30 Minutes. Everyone Will Love Your Dishes (Paperback)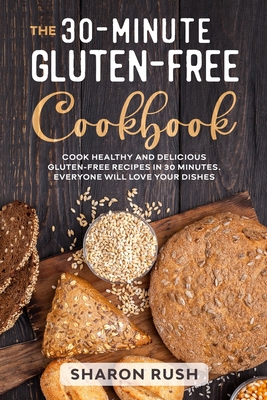 Description
---
Do you feel discomfort when you eat bread, pasta, or other types of wheat food products? Following a Gluten-Free Lifestyle Has Never Been That Easy Before
This book provides
150+ gluten-free recipes
that we can incorporate into our daily meal preparation. The ingredients used in each dish are
100% gluten-free
and you can prepare it in 30 minutes or less. We will also see how interesting gluten-free cooking can be with a colorful mix of fruits and vegetables. People who have to follow a gluten-free diet for the first time are scared and confused because store-bought gluten-free foods are often very expensive and really don't taste so good. They are hard to find and many people who have to avoid gluten feel overwhelmed and depressed by the fact that they have to follow this diet.
DOWNLOAD:: The 30-Minute Gluten-Free Cookbook -- Cook Healthy and Delicious Gluten-Free Recipes in 30 Minutes. Everyone Will Love Your Dishes
The truth is, learning to cook gluten-free is a challenge, but not an insurmountable one. The secret is that there is an easy and simple way to adhere to a gluten-free diet.
So much of the food we love is naturally gluten-free.
This book will cover the following:
The real deal on celiac disease and gluten sensitivity
30+ foods that contain gluten
The grain foods and starches that are acceptable on a gluten-free diet
How to plan a gluten-free lifestyle
The benefits of Gluten-Free Eating
150+ delicious-tasting recipes
And much more...
With a little planning and re-organizing of your pantry, it is possible to create time-saving, budget-loving, and most importantly, delicious-tasting recipes in your own kitchen. The truly great thing is that these are recipes your entire family will love
Would You Like To Know More?
So don't wait, scroll up and select the "Buy Now" button.