Summary: What I Learned Losing a Million Dollars - Strategies for avoiding loss tied to a simple framework for understanding, a (Paperback)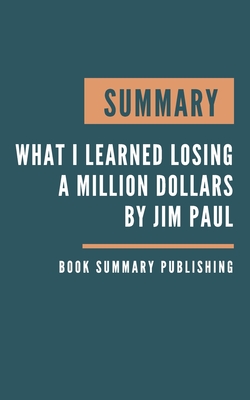 Description
---
What I Learned Losing a Million Dollars - Strategies for avoiding loss tied to a simple framework for understanding, accepting, and dodging the dangers of investing by Jim Paul
There are numerous methods and theories on how to succeed in the stock market. Yet a number of investors from all different backgrounds have known both great success and crushing loss. Does a true technique to succeed therefore exist? While many paths may lead to success, the most significant disasters seem to all have one point in common: unhappy investors making irrational decisions based on conformity or hubris. The ill-fated investor Jim Paul is a prime example. The story of his rise and fall offers precious clues on how to decipher and avoid the traps of the financial market. Why read this summary:
Save time
Understand the key concepts
Notice: This is a WHAT I LEARNED LOSING A MILLION DOLLARS Book Summary. NOT THE ORIGINAL BOOK.