Guitar Exercises for Beginners: 10x Your Guitar Skills in 10 Minutes a Day (Paperback)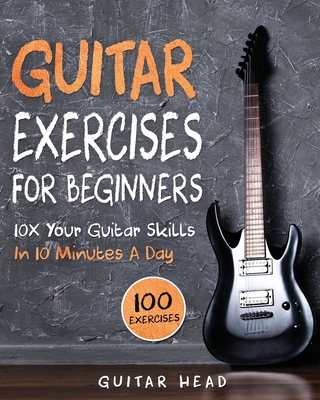 Description
---
Have you been practicing for hours and hours with little progress? Here's how to get the most out of your practice sessions.
"Practice, practice, practice until you can play it right "
The biggest lie the industry wants you to believe. A big fat lie
You shouldn't have to practice for hours or wait for years to be able to play your favorite songs. It sucks the joy out of learning the guitar and makes it boring and tedious.
Yes, you need to practice. But not as much as you've been told to
With the right practice strategy - you can get 10x results out of each practice session. And it's disturbing to see so many beginner guitarists fall into the trap of practicing with no end.
To solve this problem - we created "Guitar Exercises for Beginners: 10x your guitar skills in 10 minutes a day". A book designed to provide a structured, systemized and disciplined way to practice guitar.
We say you can enhance your guitar playing by practicing just 10 minutes a day. That's all it takes for most people to make incredible progress with their guitar skills. 10 minutes of the right practice every day.
Automate progress in your guitar playing
The book has exercises for whatever you might be practicing - finger independence, chords, scales, chord progressions etc.
Pick a few exercises and practice it every day for 10 minutes - you can easily slide in these exercises into your everyday guitar routine. It's that simple
As the chapters in the book are divided according to stages of a beginner's guitar journey - the book will make sure you always have something to work on
The right way to practice
With over 100 well-crafted exercises this book will ensure a balanced mix of melody, harmony and rhythm. It Starts with simple guitar tablature and finger independence exercises.
Then we move up a level to things like - how to hold a pick, picking methods, and strumming patterns. Followed by exercises for techniques like hammer-ons and pull-offs.
With exercises dedicated to chords and scales - the book will make sure the concepts stick After having mastered the basics - we move onto playing melodies and chords.
Where we then end in style With 10 popular chord progressions used by guitar gods such as - Jimi Hendrix, The Beatles, Green Day, Aerosmith we'll get you ready for your journey with popular songs.
Here's a glimpse of what you'll find inside
A simplified way to read guitar tablature
A step-by-step approach to master complete finger independence
The secret method of getting rhythmic with time signatures
10 easy and popular melodies and chord progressions
Learn where these exercises are applied - references from popular songs
Visual references to help you nail all the methods and techniques
No prior experience needed - completely beginner friendly
We also provide free downloadable audio for each exercise in slow and medium tempo. Enjoy playing it and take it at your own pace, without getting frustrated or confused.
Practice, practice, practice - but do it properly.
What else? With this book, you'll also get a FREE PDF, access to a private community of passionate guitarists like yourself, and weekly guitar lessons.
Scroll up and click the "Add to Cart" button to get your copy today.