100+ Jumbo CROSSWORD Puzzle Book For Seniors: A Special Extra Large Print Crossword Puzzle Book For Seniors Based On Contemporary US Spelling Words As (Easy Crosswords #1) (Large Print / Paperback)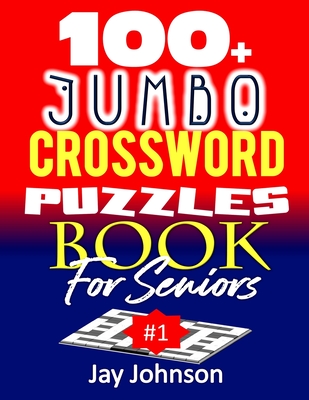 $10.99

Usually arrives at our store within 4-7 days
Description
---
This 100+ Jumbo Easy To Read Extra Large Print Crosswords Puzzle Is PERFECT For Anyone With Vision Problems ... With 3,045 Words to Fill in
Welcome to this 100+Jumbo Crossword Puzzle Book For seniors ...A Special Extra Large Print Crossword Puzzle Book For Seniors Based On Contemporary US Spelling Words As A Jumbo Print Easy Crosswords #1
This Easy to read Extra Large Print Crosswords Puzzle is PERFECT For Anyone with Vision Problems With this super-sized large print book you will have fascinating and engaging puzzles that will give you many happy hours of entertainment.
At last Large font easy-to-read themed Crosswords puzzles... Whether you're a beginner or a Crosswords wizard you will enjoy hours of entertainment with these full sized Crosswords puzzles that you can easily read and fill-in.
Warm up with the easy puzzles and then move on to more challenging brain teasers for hours of entertainment. You'll never have to squint or strain your eyes
This giant print book is on high quality paper and makes the perfect gift.
The super-sized Jumbo Print Crosswords include:
♦Extra-large easy-to-read puzzles
♦Jumbo Print easy-to-read word lists in giant fonts Jumbo full page puzzles
♦29 fascinating words Clues to fill in for each puzzle
♦105 Engaging Puzzles to Boost Your Brain Power
♦Over 100 fascinating crossword puzzles, of 29 words/phrases to a puzzle making it a total of 105 x 29 = 3,045
♦This giant print book (8.5 x 11) in is on high quality paper and makes the perfect gift
Travel to exotic places, take this book with you learn new words and boost your brain power from the comfort of your armchair with over 100 stimulating and challenging Jumbo Print Crosswords puzzles.
All it takes is find the word, fill-in the grids and challenge your brain power while you enlarge your vocabulary
Yes, Sharpen your mind now with these super fun brainteasers Keep your mind young also as you expand your vocabulary and maybe even improve your memory
Just you know, Crosswords puzzles aren't just entertaining, they're a proven way to challenge your brain (think of it as Brain workout exercise), that improve concentration and pattern recognition skills.
P.S. These Crosswords puzzles are designed with American English puzzlers in mind; but you'll never have to worry about British or American spelling
Now, get your copy today and Have fun solving the puzzles
Wait One last thing... you can check the solution at the back pages when you are stuck.
Enjoy.