Play Ukulele - 41 Bearbeitungen von Songs für Kids - Deutsch & English - Tabs & Online Sounds (Paperback)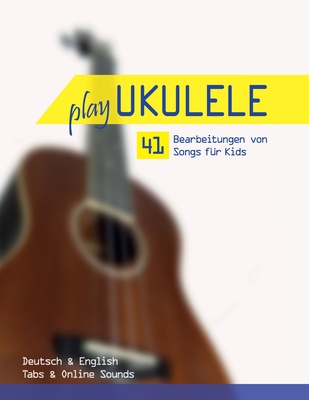 $19.08

Usually arrives at our store within 4-7 days
Description
---
Liederbuch (in deutsch und english) mit 41 Bearbeitungen von Kinderliedern und Songs f r Kids f r die Ukulele.
Alle Lieder sind mit Tabulaturen f r das Fingerpicking notiert, die Arrangements sind leicht bis mittelschwer gesetzt - f r leicht fortgeschrittene und fortgeschrittene Fans der Ukulele.
Die Aufnahmen der St cke sind online in einem eigens erstellten Audioplayer mit regelbarer Abspielgeschwindigkeit verf gbar, Webadresse im Buch.
Die Erkl rungen sind in Deutsch und Englisch notiert.
Songbook with 41 arrangements of childrens songs and songs for kids for the Ukulele.
All songs are notated with tabs for fingerpicking, the arrangements are easy to moderately difficult - for slightly advanced and advanced fans of the ukulele.
The recordings of the songs are available online in a specially created audio player with adjustable playback speed, web address in the book.
The explanations are noted in German and English.
Song list: A B C, die Katze lief im Schnee / A tisket, a tasket / Alle meine Entchen / Alle V glein sind schon da / Alphabet Song / Aram sam sam / Auf einem Baum ein Kuckuck / Backe, backe Kuchen / Bingo Song / Br derchen, komm, tanz mit mir / Der Kuckuck und der Esel / Die Affen rasen druch den Wald / Die Vogelhochzeit / Drei Chinesen mit dem Kontrabass / Eia popeia, was raschelt im Stroh? / Ein M nnlein steht im Walde / Es tanzt ein Bi-Ba-Butzemann / Fuchs, du hast die Gans gestohlen / Gr n, gr n, gr n sind alle meine Kleider / Guten Abend, gut Nacht / H nschen klein / H nsel und Gretel verliefen sich im Wald / H schen in der Grube / Hejo, spann den Wagen an / Hopp, hopp, hopp Pferdchen lauf Galopp / Hoppe, hoppe Reiter / Humpty Dumpty / Hush, little Baby / Ich geh mit meiner Laterne / Kommt ein Vogel geflogen / Kuckuck, Kuckuck / London Bridge is falling down / Mary had a little lamb / Meine Oma f hrt im H hnerstall Motorrad / O du lieber Augustin / Ringel, Ringel, Reihe / Schlaf, Kindlein, schlaf / Spannenlanger Hansel / Summ, summ, summ / Ten little Indians / Twinkle, twinkle, little Star