100 Questions for Grandpa: A Journal to Inspire Reflection and Connection (100 Questions Journal ) (Hardcover)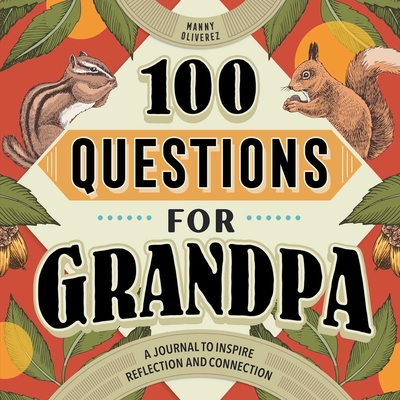 Description
---
Create an enduring keepsake for future generations with this guided journal for grandfathers
The memories we share with our families are an invaluable treasure. This grandparent's journal is designed especially for grandfathers, with writing prompts that make it easy for him to record and share his most treasured stories and memories—from recollections of his childhood, to his most meaningful relationships, his favorite things, and more. Celebrate birthdays, Grandparent's Day, Father's Day and any special occasion by giving Grandpa this charming journal. 
One question at a time—The thoughtful Q&A format makes it easy for Grandpa to call important moments to mind, and focus on whichever prompts he likes best.
Learn more about Grandpa—Discover unique details about Grandpa's life, with topics that are lighthearted and fun, as well as topics that are more insightful and thought-provoking.
Bring the family closer together—As Grandpa fills out this journal, he'll share his story with his grandchildren and pass on his love and wisdom.
Help Grandpa preserve his legacy inside the pages of this grandfather's journal.
About the Author
---
MANNY OLIVEREZ is the grandfather of 7 young and energetic grandkids. He loves to share his own childhood adventures with them about staying up late, eating donuts for dinner, and looking for Bigfoot. Those treasured memories inspired this book and his blog, Favorite Grampy.
Praise For…
---
"No matter who the person is, young or old, knowing your family history is always important. One day your child might need to do a report for school or siblings might want to do a family tree. This book is perfect, and your grandpa will know the answers to what you need. Then treasure the book and when needed, pass it down to ones who might not have gotten to know grandpa and the family history like you." —Hope Pursell, elementary school administrative assistant

"Manny Oliverez has created a unique and playful connection that will help draw grandchildren closer to their grandfathers. This book can be used as a resource to start many discussions about life and growing up. It strikes a great balance between being thoughtful and silly, just like a grandpa. Grandchildren will treasure the time spent asking and answering these questions with their grandfather." —Greg Payne, host of The Cool Grandpa Podcast

"My most cherished memories are the countless hours I spent with my grandpa absorbing his tales of all he saw and did in his 103 years on this earth, and I wish everyone could have that experience. What I love most about 100 Questions for Grandpa is the gift it allows every grandparent to leave for their grandchildren to cherish, both in the times they share together and as a lasting memory for years to come. As both an educator and a parent myself, I enjoy seeing everyone's life experiences passed down. 100 Questions for Grandpa allows the opportunity to pass them down in a beautiful, meaningful format that is sure to become a cherished family heirloom." —Kathy Vrooman