The Gift of Failure: (And I'll rethink the title if this book fails!) (Hardcover)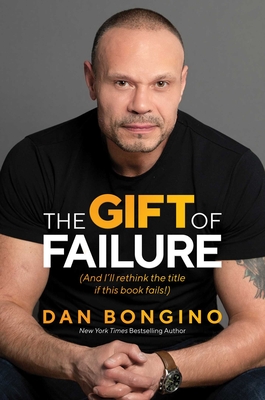 Description
---
A Wall Street Journal Bestseller!

Dan Bongino's brutally honest, deeply personal, unforgettable stories about how he transformed failures into victories will enthrall, entertain, and inspire readers.

In The Gift of Failure, leading conservative commentator Dan Bongino identifies failures in his life and how those failures led to bigger and better things. With the same laser-focused intensity that has made him one of America's most popular voices, Bongino uncompromisingly cuts to the heart of failure with a collection that is inspirational, motivational, entertaining, touching, and redemptive. The former Secret Service agent currently hosts one of the country's most listened to radio programs along with a top-rated podcast and the popular Fox News television show, Unfiltered. Throughout his career, Bongino has helped trailblaze a fight for free speech and free expression, garnering many national headlines for taking on some of the biggest tech companies in the world to challenge their seemingly draconian censorship policies. Along the way, through his many David vs. Goliath battles, Bongino has learned the hard way why failure matters. In The Gift of Failure, he shares, in vivid detail, many of these experiences—from high-profile, front-page stories involving the drama behind Parler and Rumble, to never-before-shared personal tales covering his childhood, the Secret Service, the media, a recent serious health battle, and much more. Bongino's vulnerability coupled with his trademark in-your-face, unapologetic honesty and humor help illuminate many life lessons. This is unforgettable storytelling as only Bongino can deliver. Whether you agree with him or not, there's something here for everyone.
About the Author
---
Dan Bongino's public service career began with the NYPD in 1995. Dan subsequently joined the US Secret Service in 1999. In 2006, Dan joined the Presidential Protective Division during the administration of President Bush, and he remained on protective duty with President Obama.

Dan is a multiple-time bestselling author, and he is the host of The Dan Bongino Show podcast and radio show. Dan earned his MBA from Penn State University, and both his MA and BA from the City University of New York.