Saying Inshallah With Chutzpah: A Gefilte Fish Out of Water Story (Paperback)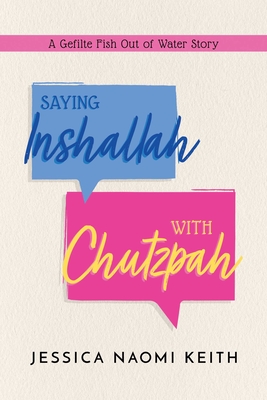 Description
---
From floundering to navigating, this gefilte-fish-out-of-water story follows the unorthodox path of a Jewish woman working for a Muslim government.

"Marrying one woman is like eating chicken every day for the rest of your life," the cultural attaché —a.k.a. my boss—warned the week before my Jewish wedding. I replied, "I like chicken."

Jessica Keith never believed she could walk down an aisle. With crippling anxiety fueled by unpredictable panic attacks, she said, "I can't" so many times she never thought she'd say "I do."

After finally setting a wedding date, to Tyrone, her beau of eight years, Jessica made the impulsive decision to move away, accepting an offer to work for the Consulate of Kuwait in Los Angeles. The culture was unfamiliar territory—with a lot to unpack—she felt lost in translation.

Adrift in life and at work, nothing seemed to go right. When the rabbi refused to perform an interfaith ceremony, and her grandmother warned, "You can't marry a Black man," rather than speak up, Jessica found it easier to bite her tongue. But when she hears on the job, "Jews need not apply," it shatters her faith in herself.

While illuminating the depths of anxiety and love, Jessica must find the resilience it takes to persevere.
About the Author
---
Jessica Keith is a professor of cross-cultural communication at San Diego State University. She graduated from Occidental College and received her master's degree in international education from the University of San Francisco. She has worked for two foreign governments at the Embassy of Spain and The Consulate of Kuwait. A Community Action Grant from the American Association of University Women was awarded to her to produce her documentary, Beyond Our Boundaries, distributed by Berkely Media. She has been published in the New York Times, Kveller, McSweeney's, The Nosher, Scary Mommy, Uptown News, Sammiches & Psych Meds, PJ Library, Medium, and BLUNTmoms. Publications are chronicled at Jessica's website, www.jessicakeithwriter.com. Jessica lives in sunny San Diego with her soulmate and their three children, the family's first generation of Black Jews.