Scary Faith: Overcome Fear and Step into the Life You Never Imagined (Hardcover)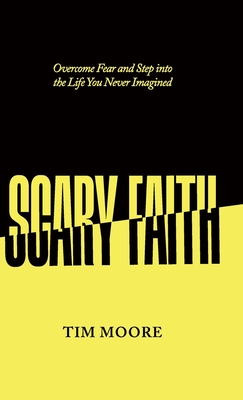 $20.99

Usually arrives at our store within 4-7 days
Description
---
WHAT IF LIFE IS SUPPOSED TO BE SO MUCH MORE?
Have you thought that about your life before?
Do you feel the gnawing ache of an unfulfilled story?
Is there a dream or purpose lying dormant inside of you?
If so, what you are feeling is the tension of scary faith. This isn't just a faith that informs your beliefs, but a faith that opens the door to endless possibilities and miracles. Many of us have fallen for the lie that having faith means having no doubt or fear. Our thoughts are consumed with worries, insecurities, and uncertainties. Yet, no matter how hard we try to muster faith, we just can't seem to take that step. We give up before we grow up and never take our first step to pursue our dreams and callings.
In Scary Faith, you will discover one of the biggest hidden secrets about fear and faith. Through his personal journey and Scriptural insights, church planter and founding pastor of X Church, Tim Moore, unpacks how to follow God's will and purpose for your life. As you navigate the scary open waters with Tim, he will unfold the key to walking by faith while wrestling with fear.
In Scary Faith, you will learn how to:
- Recognize the voice of God
- Find your purpose and calling
- Discern God's will for your life
- Override your natural response to fear
- Experience miracles in your life
Whether you are a stay-at-home mom, an entrepreneur, a pastor, or a college student, all of us have God-given dreams yet to be fulfilled. The real question is whether you will settle in the plains of comfort or adventure by faith into your destiny.