The International Left-Hand Calligraphy Association (Paperback)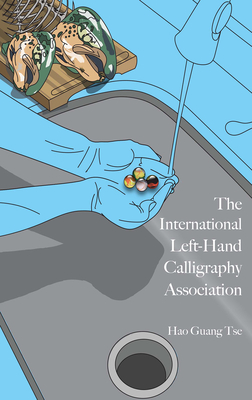 Description
---
A redefining, new collection of experimental poetry from Singaporean poet Hao Guang Tse.
A breakthrough collection of experimental poetry, The International Left-Hand Calligraphy Association is a departure from Singaporean poet and author Hao Guag Tse's more formalist work that in three masterful sections explores and explodes the language of physical, social, and subconscious human experience.
Every poem in The International Left-Hand Calligraphy Association is a breath, and each breath becomes a minute, hour, week, or year. Time, for Hao Guang Tse, is a bale of shredded moments and language is the great (dis)assembler. The calculated layering of the lyric is not a trick, but a redefinition of how to read and be read by the world--the sunlight, a pomelo, a crack in the earth. One will get lost in Tse's poetry, but also find a home in the humor, histories, and happenstance he creates.
"Hao Guang Tse's terrific range of tonalities, use of page space and gaps between parts of words, & elaborate and at times off-hand layering of time and place are knocking me out. Each poem in The Left-Hand Calligraphy Association plays with certainty by letting in a measure of trembling-- though the poems are always trembling precisely. The titles-- and the table of contents reads like its own scrolling poem-- make for a continuous sense of reset, & so I feel as if they're guides through a set of poems that is also a long poem. One stretching itself out in a collective wake converting dislocation into a moving shape of redefinition in which strength, vision, and humor abound."--Anselm Berrigan, author of Pregrets
"One of the traditional missions of poetry has long consisted of inebriating your houseplants, so you can finally get to the truly critical conversations that must be had with them about fruits and small animals, Stephen Chow flicks, the zeitgeist, and the nature of consciousness, which is exactly what Hao Guang Tse does in this sunny, playful, whimsically enjambed collection."--Ken Chen, author of Juvenilia
Poetry. Asian & Asian American Studies.