The Chicano Civil Rights Movement (El Movimiento) of the 1960s and 1970s protested the social, political, and educational inequalities in Mexican American communities across the country, primarily in the Southwest. Chicana/Chicano muralists also took to the streets - with their art - creating works that expressed cultural pride, embodied political activism, and challenged the status quo. On walls of city buildings, housing projects, schools, and other community structures, they painted their interpretations of Chicana/o heritage and identity. In Los Angeles and its environs, Chicana/o murals reinvigorated and transformed communities, expanding into new genres and locations. Murales Rebeldes!: L.A. Chicana/Chicano Murals under Siege is a co-publication of LA Plaza de Cultura y Artes and the California Historical Society. (Angel City Press)
Panelists: ¡Murales Rebeldes! contributors, Erin M Curtis & Jessica Hough, along with Muralists Barbara Carrasco & David Botello
Those wishing to get books signed will be asked to purchase at least one copy of the author's most recent title from Vroman's. For each purchased copy of the newest title, customers may bring up to three copies from home to be signed. This policy applies to all Vroman's Bookstore events unless otherwise noted. Save your Vroman's receipt; it will be checked when you enter the signing line.
Event date:
Sunday, August 20, 2017 - 4:00pm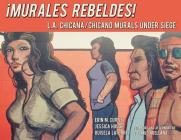 This item is not available.
ISBN: 9781626400498
Availability: Not Available
Published: Angel City Press - August 1st, 2017
---