Jennifer Kwan presents and signs Do Your Part with a Big Heart
A story about taking initiative. It comes down to doing your part with a big heart. Oxy the Octopus struggles with adjusting to his new surroundings after he and his family have to move to a different part of the seas. Things don't look good, but then Oxy meets Sam the Starfish who becomes his new best friend.
Event date:
Sunday, November 25, 2018 - 11:00am
Event address:
695 E. Colorado Boulevard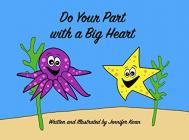 Please call for price (626)449-5320.
ISBN: 9781978227255
Published: CreateSpace Independent Publishing Platform - October 28th, 2017
---