In Don't Stop the Presses! Truth, Justice, and the American Newspaper, Patt Morrison showcases the importance of newspapers—in both words and startling imagery—and documents the impact of the medium. The press's mission—as Morrison emphasizes—is uniquely set out in the First Amendment of the Bill of Rights: "Congress shall make no law . . . abridging the freedom of speech, or of the press."
From the broadsheets of the American Revolution to the computer displays of the electronic revolution, from the age of street-corner newsboys in the days of the Hearsts and Pulitzers to the advent of legitimate online news sites, newspapers are the voices of a nation.
Morrison's wit and remarkable journalistic wisdom is amplified by the histories of the papers, people, places, and events that captivated America and its front pages. Images and vivid anecdotes from the nation's two-plus centuries of newspapering enhance the story in words. More than 200 images present the visual side of Morrison's remarkable story.
In his eloquent Foreword, Dean Baquet, executive editor of The New York Times, sees the role of newspapers as nothing short of a moral and democratic imperative: "It has never been more evident than in this year, when the glories of journalism have been on display, when the newsrooms Patt Morrison's timely book summons to mind woke up to find themselves once again vital to Democracy."
There is one overwhelming message in Morrison's book: Don't Stop the Presses! (Angel City Press)
Those wishing to get books signed will be asked to purchase at least one copy of the author's most recent title from Vroman's. For each purchased copy of the newest title, customers may bring up to three copies from home to be signed. This policy applies to all Vroman's Bookstore events unless otherwise noted. Save your Vroman's receipt; it will be checked when you enter the signing line.
Event date:
Thursday, May 10, 2018 - 7:00pm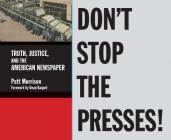 $40.00
Email or call for price.
ISBN: 9781626400436
Published: Angel City Press - April 21st, 2018
---