This virtual event will take place on Crowdcast. Register ahead of time to save your spot and get an email reminder.
EVENT LINK: https://www.crowdcast.io/e/hey-who-made-this-mess
Someone is making a great big mess at the zoo in this hilarious and delightful debut picture book. Can you find the culprit before the zoo animals' do in this gentle mystery for the youngest readers?
All the animals at the zoo are in a tizzy. Someone slept in Elephant's haystack, drank from Lion's bowl, went potty in Ostrich's sandbox (yuck!), and scratched Giraffe's favorite tree. Worst of all, someone tried to eat Goldie, the zoo's resident goldfish. Whoever it was has been leaving a suspicious trail of footprints behind. Is it a great big scary monster as the animals fear? Or is it something else entirely? Follow the clues on every page, and you just might be surprised to see who is behind this very messy situation. (G.P. Putnam's Sons Books for Young Readers)
Primo Gallanosa is an author and illustrator for children's picture books. He previously worked as an artist for video games, and created and co-owns an award-winning kids app called Pocket Worlds. He has lived in Southern California all his life and attended the prestigious art school, CalArts. He now devotes himself full-time to creating stories. When Primo isn't drawing, you can find him playing video games, reading a book, or surfing. He lives in Los Angeles with his amazing author wife and two adorable pups. Who Made This Mess? is his debut children's picture book.
Marie Lu is the #1 New York Times bestselling author of The Young Elites series, as well as the blockbuster bestselling Legend series. She graduated from the University of Southern California and jumped into the video game industry as an artist. Now a full-time writer, she spends her spare time reading, drawing, playing games, and getting stuck in traffic. She lives in Los Angeles with her illustrator-author husband, Primo Gallanosa, and their dogs.
Event date:
Thursday, July 2, 2020 - 5:00pm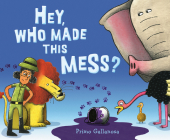 $16.99
ISBN: 9780525517368
Availability: On Our Shelves Now
Published: G.P. Putnam's Sons Books for Young Readers - June 30th, 2020
---