This is a virtual event and will take place on Crowdcast. Register for FREE ahead of time to save your spot and get an email reminder! Scroll down to purchase your copy of the book from Vroman's.
EVENT LINK: https://www.crowdcast.io/e/bwt1d41c
From bestselling author Ame Dyckman and illustrator Eda Kaban, The New Kid Has Fleas is a hilarious picture book about a new kid in school who appears to have been raised by wolves.
There's a new kid in class, and they're . . . different.
They dress different. Talk different. Eat different.
And the word on the playground is: they have fleas.
But, one of their classmates wonders, what if we got to know the new kid? Visited their home (wolves' den)? Met their parents (wolves)? Shared a snack (squirrels)?
Maybe then the new kid wouldn't be so bad after all.
School's in session for a howlingly fun "lesson" in preconceptions, differences, rumors, karma, and not just being the new kid, but befriending them. (Roaring Brook Press)
Event date:
Saturday, June 19, 2021 - 11:00am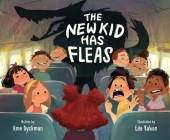 $18.99
ISBN: 9781250245243
Availability: On Our Shelves Now
Published: Roaring Brook Press - June 15th, 2021
---