CLICK HERE to go back to the main Author Visits page.
CLICK HERE for other currently available authors.
WHY HOST JENNIFER?
Through her work, Jennifer hopes to inspire others to pursue becoming the very best versions of themselves.
ABOUT THE BOOK: DO YOUR PART WITH A BIG HEART
A story about taking initiative. It comes down to doing your part with a big heart. Oxy the Octopus struggles with adjusting to his new surroundings after he and his family have to move to a different part of the seas. Things don't look good, but then Oxy meets Sam the Starfish who becomes his new best friend.
ABOUT THE AUTHOR
Jennifer Kwan graduated from the University of California, Irvine with a Bachelor of Arts in Film and Media Studies, and a Minor in History. Jennifer was inspired to create the story of friends Oxy the Octopus and Sam the Starfish during her early years in Toastmasters International, an organization that works with individuals to grow their leadership and communication skills. Once a shy and intimidated person, Jennifer learned to take courage and take initiative through the support of fellow Toastmasters and friends. Jennifer hopes to inspire others to take steps forward in their lives, no matter how big or small, so that new opportunities will be opened for them as well.
LENGTH & TOPIC OF PRESENTATION
Jennifer can do any of the following: read her book, play a video of the book to the students, perform a puppet show, and/or crafts. She is flexible with her time, but feels that an hour or less, makes the best presentations.
SCHOOL TYPE & GRADES
TBD
DESIRED NUMBER OF STUDENTS
TBD
AV/OTHER REQUIREMENTS
Jennifer is available for evening or weekend events only. She may be a great candidate for a fundraiser kickoff event!
She will need a microphone, screen and projector (for the video). If you would like Jennifer to do her puppet show that goes along with the book, she will need a bookself to set up and go behind, as well (click HERE for an example). She has all she needs for her craft portion. Click HERE for an example of the craft.
PREPARING FOR JENNIFER'S VISIT
Check out a video of the book HERE.
HASHTAGS/SOCIAL MEDIA
Facebook | #DoYourPartWithABigHeart
ORDER FORMS
Vroman's will create an order form that your school can use and distribute pre-author visit. We will also have book plates signed on the day of the event, for any students who turn in forms post-visit.
ONLINE ORDERING
Under Order Comments (found at the bottom of the check out page), please include: NAME OF STUDENT, GRADE LEVEL, and who the book(s) should be PERSONALIZED to.
Under Pick-up Options, please select: I would like to pick this order up at the store (although these books are going to be delivered to students on campus, on the day of the event).
Under Pick-up Location, please select: Vroman's Bookstore.
Educators: please DO NOT give books to students who say they have ordered online. Vroman's will be bringing online orders to the campus, if placed and confirmed, BEFORE the author visit.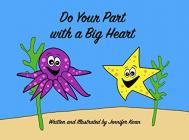 Please call for price (626)449-5320.
ISBN: 9781978227255
Published: CreateSpace Independent Publishing Platform - October 28th, 2017
---