$15.99

ISBN: 9780063069800
Availability: Coming Soon - Available for Pre-Order Now
Published: Avon - November 2nd, 2021
Pre-order The Donut Trap today to receive a personalized copy signed by Julie Tieu.
Please note in the comments section at check out, the name you would like the book made out to.

Julie Tieu sparkles in this debut romantic comedy, which is charmingly reminiscent of the TV show Kim's Convenience and Frankly in Love by David Yoon, about a young woman who feels caught in the life her parents have made for her until she falls in love and finds a way out of the donut trap.
Jasmine Tran has landed herself behind bars—maple bars that is. With no boyfriend or job prospects, Jasmine returns home to work at her parents' donut shop. Jasmine quickly loses herself in a cyclical routine of donuts, Netflix, and sleep. She wants to break free from her daily grind, but when a hike in rent threatens the survival of their shop, her parents rely on her more than ever.

Help comes in the form of an old college crush, Alex Lai. Not only is he successful and easy on the eyes, to her parents' delight, he's also Chinese. He's everything she should wish for, until a disastrous dinner reveals Alex isn't as perfect as she thinks. Worse, he doesn't think she's perfect either.

With both sets of parents against their relationship, a family legacy about to shut down, and the reappearance of an old high school flame, Jasmine must scheme to find a solution that satisfies her family's expectations and can get her out of the donut trap once and for all.

Julie Tieu is a Chinese American writer, born and raised in Southern California. When she is not writing or working as a college counselor, she is reading, on the hunt for delicious eats, or dreaming about her next travel adventure. She lives in the Los Angeles area with her high school crush husband and two energetic daughters.
---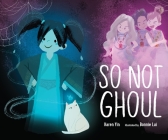 $18.99

ISBN: 9781645675570
Availability: Not Yet Published
Published: Page Street Kids - July 19th, 2022
Pre-order So Not Ghoul today to receive a personalized copy signed by Karen Yin.
Please note the name you would like the book made out to in the comments section at checkout.

On her first day haunting a new school, all Mimi has to wear are old Chinese gowns from her great-great-great-great-great-ghost-grandmother. She wants to look horrifying and rattle chains with the cool American ghouls at school, but her ghost ancestors insist she dress and behave like a good Chinese ghost. Desperate to fit in and find a middle haunting ground between her cultures, she plans a ghastly new look. But she questions whether her haunt couture is a fabulous fright or a grave mistake when her family finds out, and another ghoul at school appropriates her Chinese fashion.

This ghoulishly playful ghost story offers a boo-tiful reminder that while sometimes school and family can make you feel invisible, bicultural pride never goes out of style.

Karen Yin is the author of Whole Whale (Barefoot Books) and the founder of Conscious Style Guide. So Not Ghoul was inspired by her fondness for ghosts from Chinese lore and by her experience growing up caught between two cultures. Originally from New York, Karen lives in California with her partner and their cat friends. Find her at KarenYin.com.
---