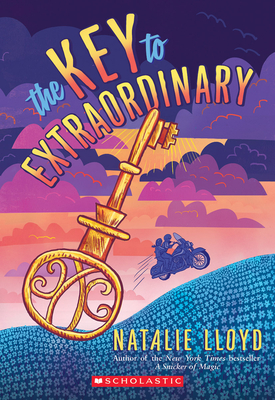 This Year's Pick:
The Key to Extraordinary by Natalie Lloyd
About the Key to Extraordinary:
Everyone in Emma's family is special.
Her ancestors include Revolutionary War spies, brilliant scientists, and famous musicians--
every single one of which learned of their extraordinary destiny through a dream.

For Emma, her own dream can't come soon enough. Right before her mother died,
Emma promised that she'd do whatever it took to fulfill her destiny, and she doesn't want to let her mother down.

But when Emma's dream finally arrives, it points her toward an impossible task--finding a legendary treasure hidden in her town's cemetery.
If Emma fails, she'll let down generations of extraordinary ancestors...including her own mother.
But how can she find something that's been missing for centuries and might be protected by a mysterious singing ghost?
About Natalie Lloyd:
Natalie Lloyd is the New York Times Bestselling author of novels for young (and young at heart) readers. Her first novel, A Snicker of Magic, was an ALA Notable Children's Book, a New York Times Book Review Editors' Choice, and an NPR, iBooks and Parents Magazine Best Children's Book of 2014. Amazon named her second novel,
The Key to Extraordinary, one of the best Children's Books of 2016, and Kirkus Reviews called it "a bouquet of quirks, sweetness, whimsy and magic."
Natalie is currently working on The Problim Children, her first series for young readers, which will begin in Spring 2018. She lives in Chattanooga, Tennessee and
loves adventuring with her fiancé, Justin, and their dogs Biscuit and Samson.
Check out the Pasadena Public Library's Page!

$6.99
ISBN: 9780545552769
Availability: On Our Shelves Now
Published: Scholastic Press - April 25th, 2017
---